Chart of the month
1 September 2020 Author(s): Oliver Rohr
The uncertainties that shaped the office market in H1 2020 have taken their toll on office take-up in Germany's primary cities. Increased remote working and potential job cuts, both of which point to lower space requirements in the long term, have triggered uncertainty among many market participants. However, we are already seeing signs that market conditions are beginning to recover.
Different stakeholders have quite different takes on market performance going forward. Financing banks with a cautious stance towards new property developments, media coverage of the benefits of remote working and associated fears that space requirements could decrease as a result combined with the first critical weeks for providers of flexible workspace initially shaped market sentiment. The Deutsche Hypo Real Estate Economic Index, for example, recorded an all-time low of 69.7 in July 2020 (March 2020: 140.3) and has since failed to recover significantly.
A look at office take-up, i.e. number of lettings and newly owner-occupied office properties, in Germany's top 7 cities shows that companies were significantly less active in the first six months of the year due to economic uncertainty. Decisions to sign leases were either postponed indefinitely or put off until a much later date as companies adopted a wait-and-see stance with regard to the course the pandemic will take as well as its impact on the economy in H2 2020. As a result, office take-up in H1 2020 was recorded at only 1.13 million sqm, down to 66% yoy, with a particularly strong decrease occurring in Q2 2020, as was the case in Frankfurt am Main.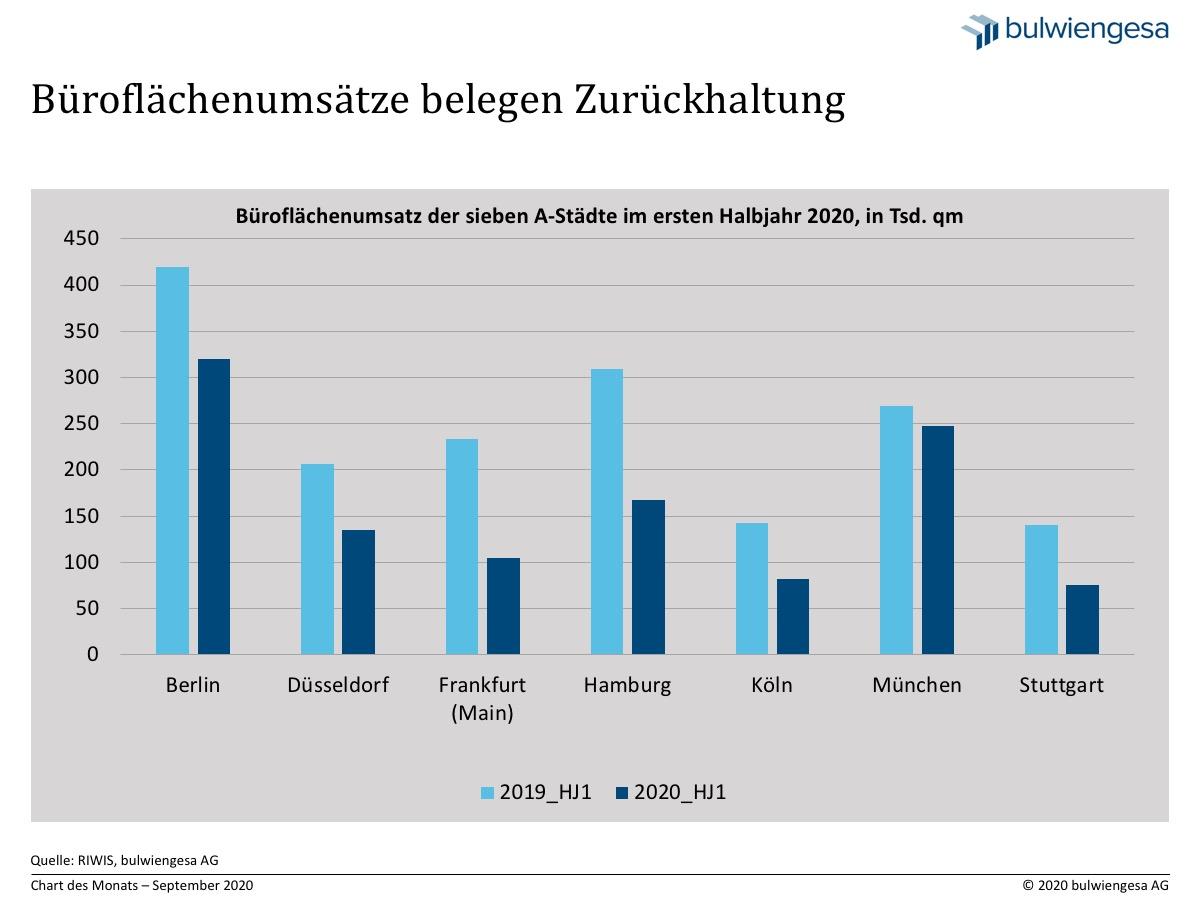 Office take-up reflects wait-and-see stance
Office take-up in Germany's top 7 cities in H1 2020, in k sqm
Köln = Cologne
München = Munich
Summer 2020 nevertheless showed signs of recovery in the overall market environment. Some large-scale deals have begun to reappear, e.g. a lease signed by tax advisory firm WTS Group for around 10,000 sqm at the iCampus-Rhenania property development located in Munich's Werkviertel submarket, a lease signed by Deka for around 16,000 sqm (RA/C) at the FOUR-T1 high-rise development in Frankfurt, which is still under construction, and several large-scale leases signed in Berlin and Hamburg.
However, whether these more favorable developments seen in local markets will mean a more expansive office market in the medium term will highly depend on general economic conditions in the months and years to come. Extensive fiscal measures will mitigate at least some of the negative economic fallout.
The slowdown in work volume due to lockdown measures is partly being compensated by job cuts (i.e. reduced hiring, letting temporary contracts expire and layoffs) and various measures to reduce the average working hours of remaining employees, including government-subsidized reduced hours schemes and having employees cash-in on overtime and flextime account balances.
Although some uncertainties still remain, it is safe to assume that job cuts will be used sparingly and that companies will try to keep most of their employees. On the other hand, the number of self-employed people negatively impacted by the crisis and the reduction in marginal employment ("mini-jobs") is likely to be disproportionately high. The resulting impact on office space requirements should, however, be relatively low. Most office workers will be able to keep their jobs as subsidized reduced-hour employment is considered an effective means of preventing job cuts, particularly when it comes to regular employment relationships.
As such, we do not expect to see a sharp slump in demand in the office segment due to a drop in employment. The crisis will nevertheless leave its mark as is already evidenced by the steep drop in take-up.
Contact: Oliver Rohr, Project Manager Office at
bulwiengesa, rohr@bulwiengesa.de